Thank you for your enquiry. We will reply asap
Great Wall Tour
GREAT WALL TOUR - ALL-INCLUSIVE, FULL DAY OF SIGHTSEEING IN CHAUFFEURED PRIVATE CAR
DON'T HASSLE WITH GROUP tours that dont cater to your schedule and have you shopping more than sightseeing!
Our driver picks you up at your hotel when you want - YOU DECIDE WHERE YOU GO, WHEN YOU GO, AND AT WHAT PACE! Tour prices do not include the purchase of any tickets or meals for guests.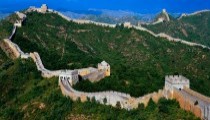 The Great Wall
With a history over 2000 years and stretching 8,850 km is The Great Wall of China, one of the greatest engineering feats ever accomplished and the definitive must-see attraction of China! Choose to visit Badaling - the the most famous, convenient for leisurely walking, best-preserved section of the Wall, Mutianyu - and older, more natural and rustic section less crowded during peak season travel, or Simatai - the least crowded and furthest section. All three offer incredible scenic views!
GREAT WALL FULL DAY 8HR SIGHTSEEING TOUR

Vehicle Type
Downtown
To & From
Badaling
To & From
Badaling
+Ming Tomb
Downtown
To & From
Mutianyu
Downtown
To & From
Simatai

Audi A6L
Business Sedan
(1-3pax)

$285
+$10
$295
$350

Buick GL8
Minivan / MPV
(1-6pax)

$275
+$10
$285
$340

Add a Beijing tour destination for only $20.

Tiananmen Square - Temple of Heaven - Hutongs - Drum Tower - More!

Private, Professional Guide 20% Off

with sightseeing tour booking. Enquire within!
Notes:
All prices are in US Dollars. Prices are a package rate inclusive of car, driver, taxes, fuel, tolls and parking charges for tour service up to 8 hours.

Prices do not include the purchase cost of any tickets or meals for guests.

Service includes pickup and dropoff at customer's hotel. Free waiting time for hotel pickup is 15 minutes. Extra hour rate of $25 will apply for any extra waiting time.

Extra hourly rate of $25/hr applies for tours in excess of 8 hours total.

A surcharge may apply for service between 00:00 to 07:00.