Thank you for your inquiry. We will reply asap
Beijing Sightseeing 'Create Your Own Tour'
Why choose a private sightseeing tour. Group tours can be a headache for independent travelers – meeting at a central location to start the tour, schedules that are rushed, guides that don't cater to your interests, forced stops at gift shops, and so on. A private sightseeing tour lets you take in all of Beijing's vibrant culture in your own private chauffeured car, perfect for small groups that like freedom and relaxation in their travel.

What you get. Enjoy a relaxing day of sightseeing in a clean, new chauffeured car. Your driver will greet you at your hotel lobby, take you directly to each location and wait on standby as you enjoy each site at your leisurely pace. When finished, your driver will take you back to your hotel.

Add a guide. Add a professional, fluent English, friendly guide to enhance your tour experience. Guides will introduce to you the rich history behind each site, answer all your questions and otherwise be at your disposal for recommendations, suggestions or assistance.

Get Started! Simply select the places you want to visit around Beijing from the below popular destinations (max. 5). Tick the boxes next to the sites you'd like to visit, select a tour guide if you'd like one (recommended), and send us your inquiry now to book your sightseeing tour within minutes!

Our team will arrange the best itinerary to see all your desired sites in the shortest amount of travel time. Other downtown area locations can be visited as well; just let us know when submitting your inquiry.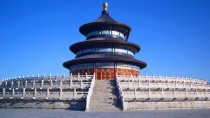 Temple of Heaven
Built at the same time as the Forbidden City, this is where Emperors worshipped annually for good harvest. A peaceful park with beautiful gardens and temples, it holds the Imperial Vault of Heavens, Circular Mound Altar, and the Hall of Prayer for Good Harvests - a magnificent triple gabled all-wood building that is China's largest religous worship structure.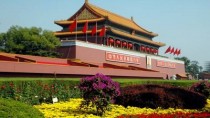 Tian'anmen Square
At 440,000 sqm., Tian'anmen Square stands as one of the largest plazas in the world and is an astounding must-see while in Beijing. An emblem of China itself, it is surrounded by larger-than-life government buildings & landmarks including Chairman Mao Memorial Hall, Monument to the People's Heroes, Tian'anmen Gate, and the Forbidden City.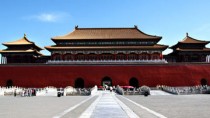 Forbidden City
The Forbidden City is the masterful palace at the heart of Beijing's center. Built in 1406-1420, it was designed as the 'earthly counterpart to the Celestial Emperor'. Displaying all the might and grandeur of the Ming & Qing Imperial Dynasties, this 720,000 sqm. palace served as the home of emperors for over 500 years and houses thousands of buildings.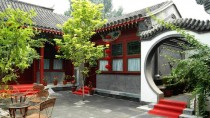 The Hutongs
Ancient neighborhoods of traditional courtyard residences and narrow alleyways, the Hutongs first appeared under Mongolian rule in the 1200's. Once covering vast spans, they housed residents from high ranking officials to merchants and artisens. The few hutongs that still exist remain an important cultural icon of Beijing and a top tour destination for foreign visitors.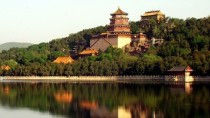 Summer Palace
As the name suggests, Summer Palace was the Summer retreat for Emperors retiring from the Forbidden City. It is an immaculate, scenice palace with ancient pavilions, mansions, temples, and bridges, set atop a hill overlooking Kunming Lake. The palace is steeped in dynastic stories - our guide will make sure you discover exactly how Chinese Emperors enjoyed their Summer!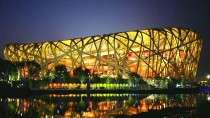 The Bird's Nest & Water Cube
China's National Stadium for the 2008 Olympic Games, better known as "The Bird's Nest" for its likeness in appearance, is an iconic architectural marvel. Walk around its perimeter to view att different angles, and catch it at sunset as the stadium lights up for a spectacular image. You will also visit the equally impressively designed Water Cube, which housed the Olympic aquatic games.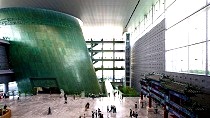 Capital Museum
Designed to symbolize imagery of China's ancient city walls, the spectacular facade of Beijing's Capital Museum is just one of the many reasons to visit. The museum holds over 200,000 cultural relics of ancient bronze, porcelain, calligraphy, painting and sculptures from throughout China's 5000 year history.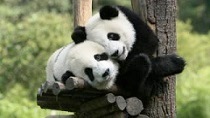 Panda Garden
A visit to the Panda Garden gives you the chance to get up close and personal with the world's most beloved bear. Giant pandas, the rarest bear familymember (only 1600 remain), is a national treasure of China - a symbol of diplomacy with its black and white yin & yang color representation, but during dynastic periods pandas were offered as diplomatic gifts. Beyond sympolism, pandas are exotic, unique, peaceful creatures to behold!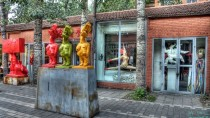 798 Art District
798 Art District is home to Beijing's thriving artistic community. It is the bustling central hub for contemporary Chinese art located in an old, massive factory complex since converted into scores of galleries, studios, design companies, high-end tailors, bookshops, fancy restaurants and cafes. Exhibitions by Asia's most famous as well as up-and-coming artists are constantly on display (usually free of charge) in this trendy district.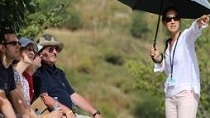 Add A Private Guide - Full Day Only $119 (Org. Rate $159)
A private, friendly, experienced fluent English guide to escort you can make all the difference when visiting a cultural site, introducing you to the history and answering all your questions.

Vehicle
Class


Vehicle
Type


Beijing City Center Chauffeured Sightseeing Tour

(Includes Up To 8 Hours
Of Total Service Time)

Add Private English
Speaking Guide
25% Off



Best Value Price!




Business Sedan
(<3 Guests)

VW
Passat
$229.00
All-Inclusive
Only +$119
(Normal Private
Guide Rate $159)

Business Minivan
(<6 Guests)

Buick
GL8
$229.00
All-Inclusive

Notes:
All prices are in US Dollars. Prices are all-inclusive, except for purchase cost of any tickets or meal for guests.

Prices do not include the purchase cost of any tickets or meals for guests.

Free waiting time for hotel pickup is 15 minutes.

Extra hourly rate for chauffeured car of $25/hr applies for service in excess of 8 hours total.

Extra hourly rate for private guide of $20/hr applies for service in excess of 8 hours total.

A surcharge may apply for service between 00:00 to 07:00.