Thank you for your inquiry. We will reply asap
Cruise Stopover
Anna Zheng | Dec 05, 2017
7 Ways To Spend Time During A Cruise Stopover In Beijing
For tourists who have a cruise stopover in Beijing, they will find no shortage of landmarks to visit and tours to take part in. Beijing is a large city and the most popular tourist attractions in the nation's capital are spread out wide across it. Below is a guide to 7 of the best ways to spend time during a cruise stopover in Beijing, including information on the time needed for travel and also to enjoy the landmark to its fullest.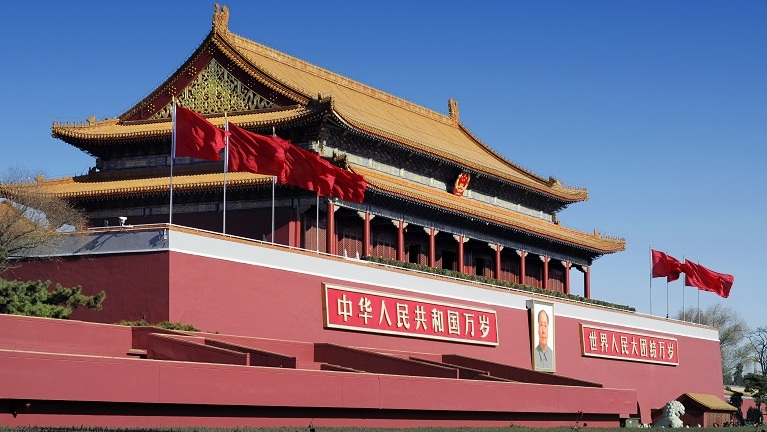 The most important information to remember, and what a large number of tourists do not realize, is that the cruise terminal for Beijing is not in Beijing. The closest port is located in Tianjin and is called Tianjin International Cruise Terminal.
Fortunately, Tianjin is just a short distance away from Beijing so visitors wishing to enjoy a tour during their cruise stopover can still reach the capital by train, taxi or private car.
Train – Although the train is the fastest way to Beijing from Tianjin, it only takes passengers as far as Beijing South and those wishing to carry on to tourist destinations will need to arrange further transport. The high-speed train from Tianjin to Beijing runs from 06:00 to 23:00 each day and ticket prices range from RMB54.5 to RMB174 (Time To Reach Beijing City Center: 40 minutes).

Taxi – Some visitors have less time than others and may require heading directly to their destination to begin their stopover tour. In that case, they may consider taking a taxi from Tianjin to Beijing. The fare should be around RMB500, but any tourists who do choose this option should be wary of Chinese taxi scams (Time To Reach Beijing City Center: 2 hours 40 minutes).

Private Car – If you wish to avoid the hassle and stress of waiting in queues and potentially bartering with the taxi driver, you can book a private car in advance to take you to Beijing. Sit back and relax in the knowledge that the driver will take you to exactly where you need to be without any risk of being scammed (Time To Reach Beijing City Center: 2 hours 40 minutes).
Whichever mode of transport you choose to travel, once you have arrived in Beijing it is time to decide how to spend your Beijing cruise stopover.
1. The Great Wall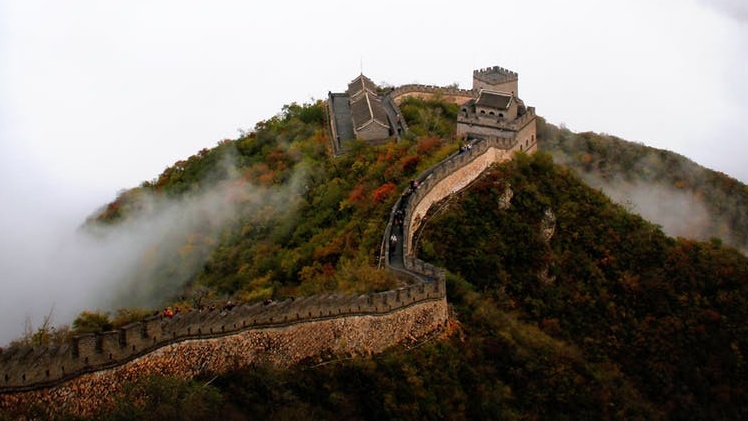 Perfect For: A chance to see one of the wonders of the world
Drive From City Center: 1 hour 40 minutes to 2 hours 30 minutes
Suggested Duration Of Visit: 2 – 4 hours
The first way to kill time during a cruise stopover in Beijing is also one of the most popular tourist attractions in the world. The Great Wall is, without any doubt, a must-see for any traveler, yet the question remains as to which section of the wall to visit.
Badaling – The most famous section of the wall and also most popular with Chinese tourists. Although this particular section of the wall can be overcrowded, it is one of the most convenient parts to visit for travelers short on time during their stopover in Beijing (Distance From City Center: 1 hour 40 minutes).

Mutianyu – Slightly further away from the center of Beijing than Badaling, Mutianyu is arguably worth the extra effort as it offers the most beautifully restored section of The Great Wall (Distance From City Center: 2 hours).

Jinshanling – Jinshanling is perfect for travelers who like to take a walk on the more adventurous side. This section is half restored and half wild and has become a favorite amongst hikers (Distance From City Center: 2 hours 30 minutes).
Whichever section travelers choose to visit during their cruise stopover, it is highly recommended to book an English speaking tour guide. The Great Wall is notorious for its number of unreliable tour packages and tourist scams so it is better to make your arrangements in advance of your stopover with a reputable source online.
2. The Forbidden City

Perfect For: Exploring the palace of the Chinese Emperors
Drive From City Center: 5 minutes
Suggested Duration Of Visit: 2 – 4 hours
The Forbidden City was the home of the Chinese Emperor for almost 500 years, from the Ming dynasty in 1420 right up until the end of the Qing dynasty and the birth of the Republic of China in 1912. The palace grounds now welcome more than 14 million visitors every year.
The original palace was built between 1406 and 1420, and with over 9,000 rooms, there is so much history to explore in The Forbidden City. To get an understanding of that history, there are multilingual guide recorders available either at the North Gate (Gate of Divine Prowess) or South Gate (Meridian Gate), but if you want to truly appreciate the Forbidden City it is recommended to hire an English speaking tour guide.
The Forbidden City is open from 8:30 to 17:30 with the tickets being sold up to 15:00. Entrance fee is RMB60 from April to October and RMB40 from November to March.

3. Tiananmen Square

Perfect For: To visit a piece of Modern China's history
Drive From City Center: 10 minutes
Suggested Duration Of Visit: 3 – 5 hours
Tiananmen Square, also known as People's Square, has often found itself as the backdrop of events that have changed the course of the Chinese people. Loaded with so much historical importance and political meaning, Tiananmen Square is high on most tourists' lists when visiting Beijing during a cruise stopover.
At 440,000 square meters, Tiananmen Square is the seventh largest city square in the world surrounded by a number of points of interest including:
Great Hall Of The People – The Great Hall Of The People is the political hub and national seat, where the National Congress is held every five years to select new leadership. Visitors are able to tour around the Great Auditorium, where the National Congress is held, and the Banquet Hall, where President Richard Nixon was entertained on his historic visit in 1972. Tickets are RMB30 for Adults and RMB15 for Students. The opening times vary throughout the year, but typically it is open from 09:00 to 15:00.

National Museum Of China – The National Museum of China is the third largest museum and most popular museum in the world, so any tourists who intend to visit should allocate at least 2 or 3 hours to walk around. The museum is split into two major halls with 'Ancient China' and 'The Road to Rejuvenation', focusing on ancient and modern history respectively. The museum is open from 09:00 to 17:00, with the last admission at 16:00. Please note the museum is closed on Mondays. While entry is free of charge, tourists will be required to bring their passport.

Mausoleum Of Mao Zedong – Visitors have the opportunity to see the actual embalmed body of the founding father of the People's Republic of China. While for some it can be quite an eerie experience, it is still undoubtedly a unique opportunity to see an important part of the country's history. The mausoleum is free to enter, but you are required to bring a valid form of identification.
While heading to one of these tourist attractions in Beijing, don't forget
to plan your route in the busiest metropolis of China. If you're looking for simple and easy transportation, we can arrange a private car for you. Our English speaking drivers and support desks are available 24/7 to ensure a comfortable and stress-free journey.
Contact our team at
Bookings@BeijingCarService.com
with questions or to get a quote. Use this promo: 10CARBLOG for a $10 discount on your 1st service.
4. Summer Palace
Perfect For: An afternoon walk among the imperial gardens by the water
Drive From City Center: 45 minutes
Suggested Duration Of Visit: 3 – 4 hours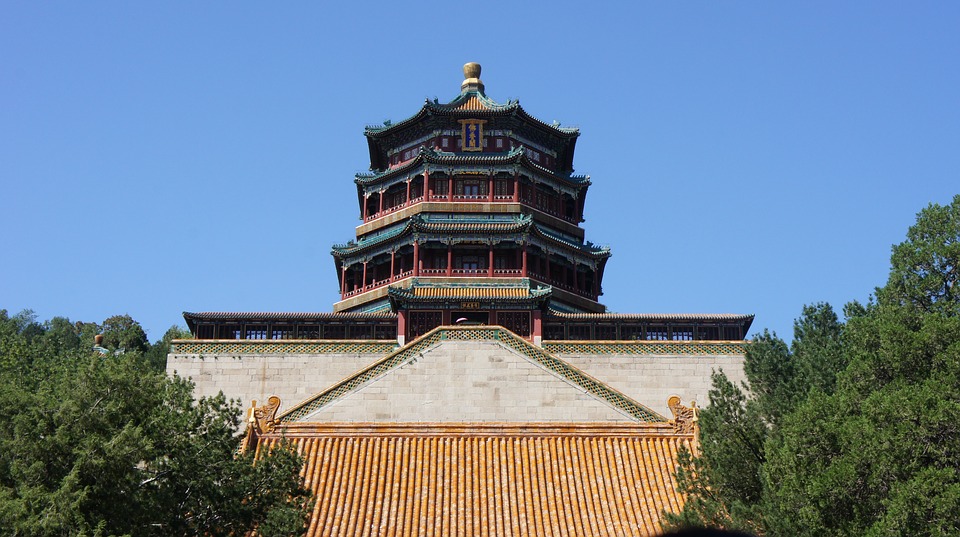 At 290 acres, the Summer Palace is the largest imperial garden in China and offers tourists a more peaceful alternative to many of the other tourist sites in Beijing. The gardens are mainly dominated by Longevity Hill and Kunming Lake, a huge and tranquil lake that covers most of the park. Highlights of the park include:
Tower Of Buddhist Incense – Situated on Longevity Hill and the highest building in the park. As well as housing a 5-meter statue of Guanyin, the tower also offers stunning views of Kunming Lake.

Marble Boat – The Marble Boat, which sits on Kunming Lake and is 36 meters long, is actually a replacement for the original wooden boat that was burned during the Second Opium War. The stone made the boat is a unique attraction on the lake and is steeped in history.

17 Arch Bridge – There are some thirty bridges connecting the imperial gardens together, but the 17 Arch Bridge is the longest with a length of 150 meters. The bridge is the sole way to cross to Nanhu Island but also stands as an attraction in itself.

Pavilion of Precious Clouds – If you head west from the Tower of Buddhist Incense, you will come across the Pavilion of Precious Clouds. The beautifully restored pavilions are set against the rock side of Longevity Hill and make for a fascinating tour.
The park is open from 06:30 to 20:30, allowing for tourists to enjoy the Summer Palace at its most peaceful in the morning and also to come in the evening for a romantic stroll with a loved one. Entry is RMB50 during peak season and RMB40 during the low season.
5. 798 Art Zone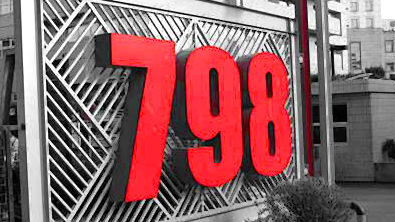 Perfect For: Sampling Beijing's artistic community
Drive From City Center: 40 minutes
Suggested Duration Of Visit: 2 – 4 hours
While Beijing undoubtedly boasts an unrivalled amount of historical landmarks, the city is also home to a wide range of modern art, which is no better epitomized than by the 798 Art Zone. The area, also known as Dashanzi Art District, is made up of decommissioned military buildings that have been renovated to host one of the country's most vibrant artistic communities. According to The New York Times and Time Out, the success and growth of the art space have led to the recognition of 798 Art District over the years.
A trip to 798 Art Zone can often turn from a one hour visit to a whole afternoon as tourists' curiosity gets the better of them. In such a case, it might be wise to arrange an English speaking tour guide to learn more about the amazing exhibitions and the artists behind them.
There are also a number of restaurants and cafes dotted amongst the art exhibition in 798 Art Zone.
Timezone 8 – A highly rated spot to enjoy a drink and relax, which serves a mix of Japanese and American dishes.

Najia Xiaojiuguan - For those looking to try something a little closer to the authentic local cuisine, head to the Jiu Xian Qiao branch of this much loved Beijing restaurant.
6. Happy Valley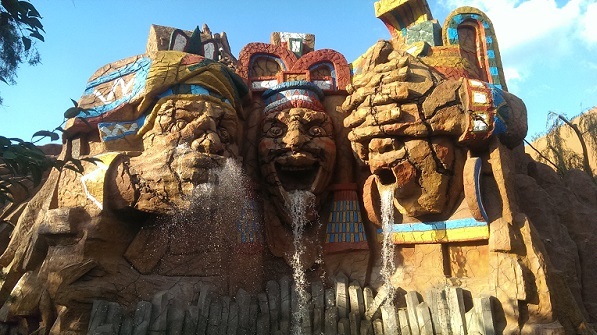 Perfect For: Family day out at one of the top theme parks in China
Drive From City Center: 40 minutes
Suggested Duration Of Visit: 6 – 8 hours
In between hiking along The Great Wall and exploring the Forbidden City, some tourists may start to feel the need for a change of pace and try something more light-hearted. Located in Chaoyang district, Happy Valley amusement park is a perfect day out for families on a cruise stopover in Beijing.
The park boasts more than forty rides, including 10 extreme roller coasters and an IMAX theater. To get an idea of the kind of rides that can be enjoyed at Happy Valley, there are videos on YouTube of the Crystal Wings rollercoaster. Ticket prices can be found below.
Adults and Children above 1.5m: RMB260 from March to November, RMB220 from November to March
Children between 1.2 and 1.5m: RMB160 from March to November, RMB160 from November to March
Children under 1.2m: Free entry
If you wish to visit Happy Valley during your cruise stopover but are somewhat tight on time, you may want to consider hiring a private car to take you from Tianjin to Happy Valley, wait for you while you the park, and then take you back to Tianjin to rejoin the cruise.
7. Chaoyang Theater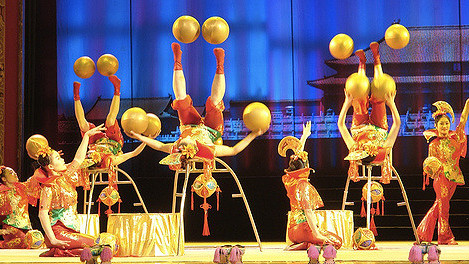 Photo by jaaron on Foter.com / CC BY

Perfect For: An evening of spectacular acrobatics
Drive From City Center: 30 minutes
Suggested Duration Of Visit: 1 - 2 hours

After an afternoon walk around the Summer Palace, visitors may be in the search of some evening entertainment, which allows them to set back and enjoy a show. While the Peking Opera at the Huguang Guild Hall and the Kung Fu show at the Red Theatre are highly recommended, arguably the most exciting show in town is at the Chaoyang Theater. The acrobatic show includes traditional lion dancing, death-defying fire stunts, devil-may-care bicycling, and mind-boggling contortion acts.
The show has three performances a day at 15:50, 17:30, and 19:00. Prices range from RMB850 for VIP tickets down to RMB200, while there are online discounts available for those booked in advance.
_____________________________________________________________________________________________________________

Take advantage of online discount on your 1st service with our company and book your private car and driver now! Click the image below or contact our 24/7 team at Bookings@BeijingCarService.com. Use this promo code: 10CARBLOG.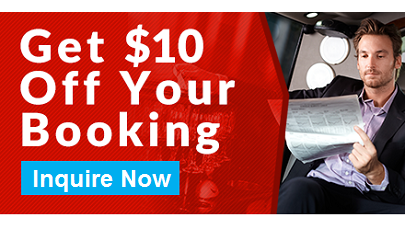 If you find this blog useful, please feel free to share it!
_____________________________________________________________________________________________________________

OUR SERVICES INCLUDE:
► Beijing Airport Transfer & Tianjin Airport Transfer
► Beijing Car Rental Limo Service
► Inter-City Transfer From Beijing To Tianjin
► Beijing Cruise Ship Limousine Service
► Beijing Airport Meet & Assist Service
► Events, Functions and Roadshows
► Professional Translator / Interpreter Services